If you have ventured on to any social media platform in the last few weeks, you know that pretty much every person in the world is participating in the Ice Bucket Challenge to raise awareness (and maybe, just maybe generate a donation or two) for ALS.
If you are one of the few people on the planet not familiar with the challenge, it breaks down like this:
Person speaks directly into a cell phone camera and gives some spiel about being challenged by somebody higher up on the social media food chain.  Viewers resist the urge to fast forward to the good part.
The participant challenges three friends, family members, or random celebrities to do the same thing within 24 hours or pay a bribe…sorry, I meant "donation"…to get out of it.
A bucket of ice water is dumped over the participant's head.
They shriek and scream like somebody who just had icy water dumped on their head.  Hilarity ensues.
Participant uploads the video to Facebook, Twitter, Instagram, Vine, YouTube, MySpace, Geocities, and/or some random AOL chat room.
The viral popularity of the Ice Bucket Challenge is greater than anything anybody could have anticipated.  Donations are through the roof, awareness is off the charts.  I'm not sure if it could be going any better.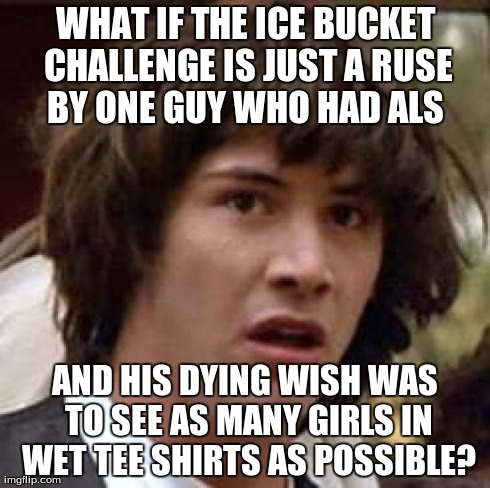 Or maybe it could…
Just imagine if the folks at ALS had decided to go with one of the other challenge finalists:
Lukewarm bucket challenge
Dry ice bucket challenge
Rice bucket challenge (fried or steamed)
Ice Ice Baby challenge
Show me a receipt for your donation challenge
Boiling water challenge
Colonel's 10 piece bucket challenge (original or extra crispy)
Mice bucket challenge
One big ass block of ice challenge
What else will you do to avoid giving money to charity challenge
Lou Gehrig challenge (have a descendant of Wally Pipp dump 2,130 of any item on you)
Lucky Bucket challenge (Mmm….Lucky Bucket….)
Ice Dixie Cup challenge
Feit Can Write U-Haul Truck-It Challenge
Lice bucket challenge – oh wait, that's an old Fear Factor episode.
Harlem Globetrotter bucket challenge
Tell me what "ALS" stands for challenge
*   *   *
 Author's Note:  I figured this was a pretty good entry in the WordPress Daily Challenge "Breaking the Ice".